a school (is a school, is a _)
10/2018 — 11/2019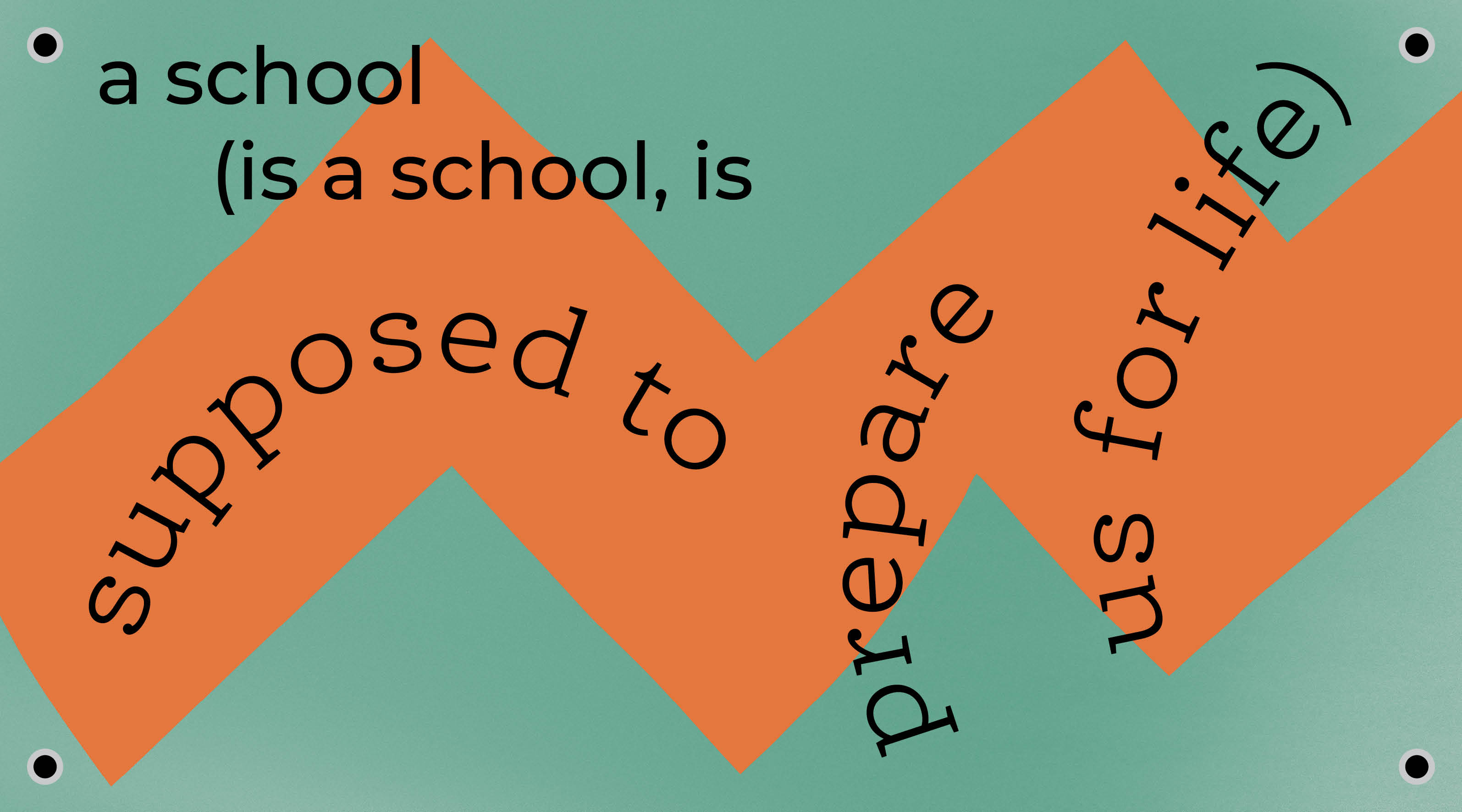 Design/ Louise Khadjeh-Nassiri & Johnny Chang

A playful exercise in filling in the blanks, a school (is a school is a _ ) was a long-term project that invited all those intereste in the future of education, learning and schooling to rethink the notion of school with us. Together with participants we created moments of learning, sharing and study that existed outside traditional learning environments or played with the parameters within them. This manifested itself in four exhibitions, various formal and informal gatherings with workshops, walks, collective cooking and naps, a program of zine-making workshops and more.

The blank space in the title functione as an open invitation. We asked people on different occasions to fill it in wit any name, place, project, statement or activity that could radically imagine and actualize ways of studying that are joyful and collaborative, or complaints against the ongoing neoliberalisation of education expressed through careerism, teacher- student hierarchies, and grading systems.

As part of the project we also embarked on a long-term research project into existing learning initiatives that practice life-long learning, critical, decolonial and feminist pedagogies to question and negotiate learning under capitalism and in the context of climate emergency. By talking and collaborating with them we gathered (and will continue to gather) different methods for (self-)organizing and collaborative work which we translate into concrete tools for those interested in starting their own self-organized spaces for learning and study. The ephemeral nature of many of these initiatives makes it important to document them so as to keep a record of these vital practices in the future of education.

Participating artists and collaborators:
Katja Fred (NL), Davide Christelle Sanvee (CH), Antoine Guay (FR), Tony Karlson (SE), Danai Anagnostou (FI), Kaisa Karvinen (FI), Tommi Vasko (FI), Ying Que (NL), Rosa Paardenkooper (NL), Alen Ksoll (SE), Ted Petersson (SE), Louise Khadjeh- Nassiri (SE), Johnny Chang (SE/USA), and Sander Hintzen (NL)

Institutions and organisations:
Adolf Fredriks musikklasser (SE), Offenbach University of Art and Design (DE), Casco Art Institute (NL), Candyland (SE), Botkyrka Konsthall (SE), Konstfack (SE), Supermarket Art Fair (SE), Witte de With Center for Contemporary Art (NL), Rethinking Economics Festival (NL), Lava Library (SE), Orminge Bibliotek (SE), and Kista Bibliotek (SE)

Learning initiatives:
Rat School of Art (SK) Trojan Horse (FI) Golden Dome School (USA) Parallel School (WW), School of the Damned (UK), The Other MA (UK), Parallel School (Nomadic), and ParasiteSchool (Nomadic)

a school (is a school, is a zine, is an exhibition, is a pamphlet, is a dissident business, is a cooked talk, is a Trojan Horse, is a LARP, is an unorganised gathering of learning bandits, is a library).

The project was supported by the Swedish Art Council, The City of Stockholm and Konstfack.